Canon introduces its first compact camera designed exclusively for vlogging, catering to the unique needs of content creators who produce videos for social media.
The PowerShot V10 weighs a little over seven ounces, conveniently fits into a pocket, and provides an all-in-one solution for lifestyle and travel content creators. It incorporates top-notch microphones and a built-in stand, enabling vloggers to generate engaging content for social media.
Designed with a vertical body and prioritizing ease of use, the PowerShot V10 is engineered for seamless single-handed operation. It features a 2.0-inch LCD touchscreen that can be flipped to the front, making it ideal for self-vlogging or recording others.
The camera is suited for handheld shooting, enabling effortless capturing of emotions and establishing an intimate connection between the videographer and their viewers.
With its one-inch CMOS sensor, the PowerShot V10 captures 4K video and delivers exceptional image quality for still photography. Additionally, creators have the flexibility to enhance the cinematic atmosphere by quickly applying any of the 14 pre-installed color filter effects.
For handheld videography, the Movie Digital IS mode minimizes camera shake, resulting in sharper, cleaner footage that exhibits enhanced detail and clarity. It also supports recording up to one hour of uninterrupted video.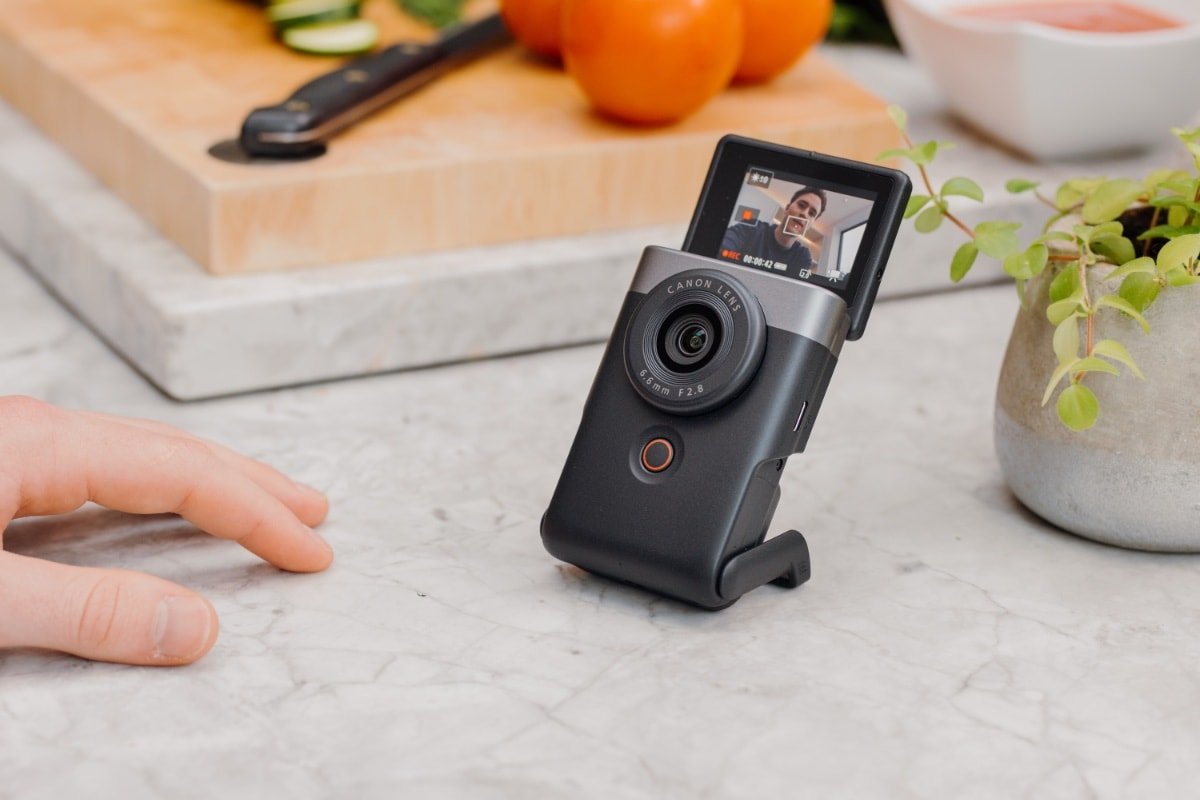 To cater to the diverse requirements of different social media platforms, the PowerShot V10 enables shooting in both vertical and horizontal orientations. The auto-level feature ensures that videos remain straight and avoids slanted clips, reducing the editing time required for content.
The PowerShot V10 integrates with the Canon Camera Connect app, allowing for video transfers to a smartphone or tablet through Wi-Fi. Its design incorporates HDMI and USB ports, making transferring files to a laptop or PC convenient.
For creators who are frequently on the move, the device can be conveniently recharged via USB-C while on the go. Canon Camera Connect is available for free on the App Store for iOS and iPadOS 15 or later.
Canon PowerShot V10 — Pricing & availability
The PowerShot V10 is available to preorder for $429.99 through B&H Photo Video or from Adorama.com and starts shipping in June. It's available in two bundle options.
The first is the standard kit, which includes essential accessories such as a power cable, soft case, lens cap, windshield, and wrist strap. For those seeking additional creative possibilities, an advanced kit was developed in collaboration with SmallRig.
That kit features a cage that allows for the attachment of a ring light or external microphone, providing users with enhanced flexibility in their vlogging setup.